The International Baccalaureate (IB) assesses student work as direct evidence of achievement against the stated goals of the Diploma Programme (DP) courses. DP assessment procedures measure the extent to which students have mastered advanced academic skills in fulfilling these goals, for example:
analysing and presenting information
evaluating and constructing arguments
solving problems creatively.
Basic skills are also assessed, including:
retaining knowledge
understanding key concepts
applying standard methods.
In addition to academic skills, DP assessment encourages an international outlook and intercultural skills, wherever appropriate. Student results are determined by performance against set standards, not by each student's position in the overall rank order.
Using external and internal assessment
The International Baccalaureate (IB) Diploma Programme (DP) uses both internally and externally assessed components to assess student performance.
For most courses, written examinations at the end of the DP form the basis of the assessment. This is because these examinations have high levels of objectivity and reliability.
Externally assessed coursework, completed by students over an extended period under authenticated teacher supervision, forms part of the assessment for several programme areas, including the theory of knowledge (TOK) essay and the extended essay (EE).
In most subjects, students also complete in-school assessment tasks. These are either externally assessed or marked by teachers and then moderated by the IB.
How DP assessment is scored
In the DP, students receive grades ranging from 1 – 7, with 7 being highest. Students receive a grade for each DP course attempted. A student's final Diploma result score is made up of the combined scores for each subject. The diploma is awarded to students who gain at least 24 points, subject to certain minimum levels of performance including successful completion of the three essential elements of the DP core.
The DP Core 
The Theory of Knowledge (TOK) and Extended Essay (EE) components are awarded individual grades and, collectively, can contribute up to 3 additional points towards the overall Diploma score.
The following matrix displays how these points are derived: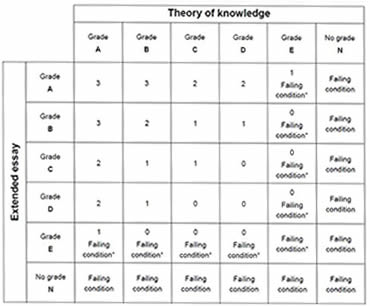 Creativity, Action, Service – the remaining element in the DP core – does not contribute to the points total but authenticated participation is a requirement for the award of the diploma.
Higher level and standard level courses
The IB awards the same number of points for higher level (HL) and standard level (SL) courses, reflecting the IB's belief in the importance of achievement across a broad range of academic disciplines. HL and SL courses differ in scope but are assessed against the same grade descriptors, with HL candidates expected to demonstrate the various elements of the grade descriptors across a greater body of knowledge, understanding and skills.
External assessment
Examinations form the basis of the assessment for most courses. This is because of their high levels of objectivity and reliability:
essays
structured problems
short-response questions
data-response questions
text-response questions
case-study questions
multiple choice questions – though these are rarely used.
Internal assessment
Teacher assessment is also used for most courses. This includes:
oral work in languages
fieldwork in geography
laboratory work in the sciences
investigations in mathematics
artistic performances.
*Please note that much of the information explained above referring to the International Baccalaureate is taken from www.ibo.org